:: Major Destinations
:: North
:: Northeast
:: East
:: Central
:: South
Bangkok, 02 April, 2021 – The Tourism Authority of Thailand (TAT) is delighted to announce that the World Travel and Tourism Council (WTTC) has certified the Amazing Thailand Safety and Health Administration (SHA) certification programme to be on par with the WTTC SafeTravels global health and hygiene standardised protocols.
WTTC's approval of the Amazing Thailand SHA certification in alignment with the WTTC SafeTravels protocols is testament to Thailand's effective health and hygiene standards that have over the year placed the kingdom among the best in the world for the ongoing COVID-19 recovery effort.
Also, WTTC's approval means that Thai stakeholders who have been awarded the Amazing Thailand SHA certificate will be endorsed to display both the WTTC SafeTravels and Amazing Thailand SHA logos in their respective places of business.
What is SHA?
The Amazing Thailand Safety and Health Administration (SHA) project is a result of cooperation between the Ministry of Tourism and Sports, the Tourism Authority of Thailand (TAT), the Ministry of Public Health, the Department of Disease Control, the Department of Health and the Department of Health Service Support, as well as government and private sector organizations involved in the tourism industry. Together they aim to make tourism a part of Thailand's disease prevention measures and ensure that both Thai and foreign tourists have a positive experience, that they are happy and confident in the sanitation and safety standards of Thailand's tourism products and services.
Various boards, federations, and associations in the tourism industry are in charge of inspecting the checklist and certifying the result of improving a workplace according to the SHA standards. Workplaces are divided into 10 types: 1. restaurants / diners, 2. hotel, accommodation and meeting place, 3. recreational activity and tourist attraction, 4. transportation, 5. travel agency, 6. health and beauty, 7. department store and shopping centers, 8. sports for tourism, 9. theater, entertainment, and activity, 10. souvenir shop and other shops.
TAT awards SHA certificates, assigns a serial number to successful entrepreneurs, and records it in the database of the list of entrepreneurs who have received the SHA certificate. The TAT can also revoke the SHA certificate if entrepreneurs fail to comply with SHA standards.
SHA provides sanitation and safety standards for tourists. During the re-opening period of establishments or services, tourists and service recipients are asked to provide any suggestions (Post Audit) via the online system provided by TAT, which will be used for further improvement. Establishments will be randomly inspected by the committee.
Find a reliable registered travel agent in Bangkok to serve you?

Alex Holiday is a Bangkok-based travel agent, operating tour services and providing hotel reservations all over Thailand. We offer a wide variety of adventure tours, cultural and natural excursions in Thailand and Southeast Asia. Our services cover air ticket reservations worldwide and cheap tickets to various top tourist attractions in Thailand. With our experience of more than 10 years as a leading tour operator handling individual travelers, we are confident to satisfy all specific requirements of our clients.

We are an outstanding tour operator, specializing in cultural, trekking, adventure and golf tours as well as other tailor-made tour packages. We can organize all kinds of travel for you ranging from private tours and group tours to incentive tours and we can also arrange homestay programs and hotel accommodations in every location in Thailand and overseas.

If you want to fully enjoy all the beauty and convenience Thailand has to offer, don't hesitate to contact us. Alex Holiday will show you how. We are a professional tour operator in Bangkok. Many certificates and awards received can guarantee that Alex Holiday is the right travel agent for your visit to Thailand. Our tour guide has been qualified "a silver level tourist guide" by the Department of Tourism and the company has received tourism awards from the Ministry of Tourism and Sports of Thailand to prove our standard of quality.

Let us give you an incomparable experience in Thailand.

Best Selling Offers of Alex Holiday

Special Offer

Location

Price

Charlie House Pin Klao

Bangkok

Thai baht 1,000
(Twin)

Package
3 days / 2 nights + City Tour
+ Grand Palace . . .

Bangkok

Thai baht 3550

Our credentials

Department of Tourism
Ministry of Tourism and Sports, Thailand

This is to certify that
Alex Holiday Co., Ltd.
has been assessed and awarded
THE GOOD LEVEL
2009-2011

Department of Tourism
Ministry of Tourism and Sports, Thailand

This is to certify that

ALEX HOLIDAY CO., LTD.

has been assessed and found to be conforming to requirement of

TOUR BUSINESS STANDARD
GOLD LEVEL
Date of issue: January 2016 Valid untill: December 2018

SPECIAL OFFER Tour Packages : Inbound
***Dinner Cruise Wonderful Pearl*** with International Dinner Buffet Only Code S-105
Foreign Market (Child 4-10 years old) 1200 THB


Bangkok- Lopburi-Ayutthaya Tour 2 Days / 1 Night Code P-28
Private 7-8 Pax 7200 THB


*** Bangkok Package G 3D2N Code P-27
1 Person (Minimum 2 Persons) Join 3750 THB


Sea Life Bangkok (formerly Siam Ocean World) (Package 1) Code S-72
Foreign Market (Child) Mean Taller between 80 - 120 Cms. 650 THB


Tour in Phuket 3D2N Code P-23
Join 4050 THB


Hanuman World (World C : Zipline 7 Platforms + Sky walk + Join transfer) Code S-119
Foreign Market 1600 THB


More Tour Packages : Inbound >>
SPECIAL OFFER Tour Packages : Outbound
Angkor Wat Special Trip (3 Days / 2 Nights) Code OP-08
Twin pax 11662 THB


Hanoi - Halong ,Vietnam (4 Days / 3 Nights) Code OP-02
8 pax 16000 THB


Cambodia (3 Days / 2 Nights) Code OP-10 By Van
Twin 10568 THB


Special private 1 day tour of Ankor Wat Code OP-11
Join 4760 THB


Cambodia Tour (2Days 1Nights) Code OP-06 By PG
Twin Monoreach Hotel 3* 23324 THB


Reentry Visa in Cambodia (1 Day Trip) Code OP-01
1 pax 2000 THB


More Tour Packages : Outbound >>
SPECIAL OFFER Golf Tour Programs : Inbound
The Pine Golf & Lodge GF-BKK-06
Green Fee Weekday 900 THB


Royal Lakeside Golf Club Code GF-CHS-01
Green Fee Weekday 1400 THB


Chiangmai Highlands Golf Code GF-CNX-01
Green Fee Weekday 1900 THB


Water Mill Golf & Gardens Code GF-NNY-01
Green Fee Weekday 1100 THB


Royal Chiang Mai Golf Club Code GF-CNX-04
Green Fee Weekday 2250 THB


St. Andrews 2000 G.C. Code GF-RYG-02
Green Fee Weekday 2100 THB


More Golf Tour Programs : Inbound >>
SPECIAL OFFER Golf Tour Programs : Outbound
Golf Adventures In Malaysia (Buddy Golf Package 3 Days 2 Nights) Code GO-03
1 Pax (Min 4 Pax) 10600 THB


Golf Kunming (3D/2N) Code GO-02
12 pax 34580 THB


3 Province Golf in Vietnam (4D/3N) Code GO-01
12 pax 37000 THB


More Golf Tour Programs : Outbound >>
Code TV-10: Van transfer from Don Muang airport to hotel in downtown Bangkok or from hotel to airport (Including gasoline and Tollway)
Transfer Out/Max 8-10 Pax (Select No. of Vans in the No. of Person field ) 1200 THB


Code TT-08: Taxi transfer from airport to hotel or hotel to airport (Including gasoline and Tollway)
Taxi/max 4-6 Pax Transfer Out (Select no. of Taxis in the No. of Person field ) 800 THB


Code TV-09: Van transfer from hotel in Bangkok to Pattaya or VV (Oneway only) (Include gas soline and Tollway)
Van/max 8-10 pax (Select No. of Vans in the No. of Person field ) 2800 THB


Code SV-03: 1 day (Max 10 hours) van rental service without guide (Excluding gasoline and Tollway)
Van Rental Service (Select No. of Vans in the No. of Person field ) 2000 THB


Code TV-04 :Transfer Chokchai Farm : Transfer from Hotel In Bangkok to Chokchai Farm
8 pax 1000 THB


Code TC-03: Car transfer from Bangkok Airport to Hua Hin (Oneway only)
Max 3 Pax (Select No. of Car in the No. of Person field ) 3000 THB


More Services >>
Thanont Golf View and Sport Club Code GF-BKK-03
Situated on the outskirts of Bangkok City. Come and Relax and enjoy a round of golf after work or a busy day sightseeing Green Fee Weekday 1100 THB


- - - - - - - - - - - - - - - - - - - - - -
Mission Hills Phuket Golf Resort Code GF-HKT-05
Golfers playing at tropical Mission Hills Phuket Golf Resort will enjoy the wide range of facilities and services on off Green Fee Weekday 3800 THB


- - - - - - - - - - - - - - - - - - - - - -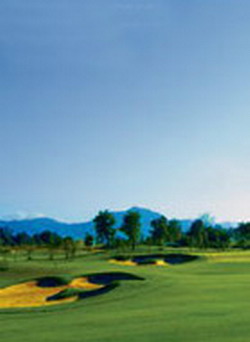 Chiangmai Highlands Golf Code GF-CNX-01
Chiangmai Highlands, designed by Schmidt - Curley, is the creative team responsible for the redesign of Muang Kaew Golf Green Fee Weekday 1900 THB


- - - - - - - - - - - - - - - - - - - - - -
Lamlukka Country Club Code GF-PTN-07
Lam Luk Ka Country Club is one of the golf courses with 36 holes and it is located in the east of 27 km. on Lamlukka roa Green Fee Weekday 1800 THB


- - - - - - - - - - - - - - - - - - - - - -
The Royal Gems Golf Country Club Code GF-BKK-01
The Royal Gems & Sports Club is one of the famous membership golf courses in Thailand and located in Putthamonthon along Green Fee Weekday 2100 THB


- - - - - - - - - - - - - - - - - - - - - -
Pleasant Valley Golf & Country Club Code GF-CHB-10
Pleasant Valley Golf & Country Club is located amongst then mountains north of the city of Pattaya and is cooled by the Green Fee Weekday 1400 THB


- - - - - - - - - - - - - - - - - - - - - -
More Golf Inbound Package >>
Golf Kunming (3D/2N) Code GO-02
Day 1 (D) Flight TG612 to Kunming/Visit Xidan Mountain/Check in at Spring City Golf & Lake Resort/Dinner Day 2 (B/LD) 12 pax 34580 THB


- - - - - - - - - - - - - - - - - - - - - -
3 Province Golf in Vietnam (4D/3N) Code GO-01
Day 1 : (L/D) 05.45 Meeting at Suwannaphum Airport For C/N (at Departure Hall on the 4th Fl., Counter TG) by TG680 1 12 pax 37000 THB


- - - - - - - - - - - - - - - - - - - - - -
Golf Adventures In Malaysia (Buddy Golf Package 3 Days 2 Nights) Code GO-03
ITINERARY:

Day 1 : Arrive Kuala Lumpur

Meet & greet at Kuala Lumpur International Airport ( 1 Pax (Min 4 Pax) 10600 THB


- - - - - - - - - - - - - - - - - - - - - -
More Golf Outbound Package >>